My name is Rob Robertson. I am 54 Years Old. Married with three Grown Sons. Two Grand kids. My home is Burneyville, Oklahoma USA. I changed my life in 2013 by Walking for Exercise and Eating Whole Foods. I started walking half Marathons. Moved up to Marathons and then 12 hour timed races. Found out my forte is walking 24 hour – 100 mile Centurion races. Now I am on a journey to join all Six World Centurion clubs. Currently I am one of 9 people around the world that have membership in Five Clubs. I am United States Centurion C78. Australian Centurion C68. British Centurion C1169. African Centurion C11. Continental Centurion C454. Of the 1504 Centurion's Worldwide only Four have membership in Six Clubs. No matter which World Centurion Club you are interested in. The standard for membership is the same. You must walk 100 Miles within 24 Hours.
United States (MEMBER June 2015 United States Centurion Qualifier, Fort Snelling, MN).
Australia (MEMBER April 2016 Australian Centurion Qualifier, Coburg, Victoria).
British (MEMBER August 2016 105th British Centurion Qualifier, Redcar, England).
African (MEMBER October 2016 African Centurion Qualifier, Robben Island, South Africa).
Continental  (MEMBER June 2017 Continental Centurion Qualifier, Weert, Netherlands).
New Zealand  October 2018 New Zealand Centurion Qualifier, Auckland, New Zealand.
Going to be Fun!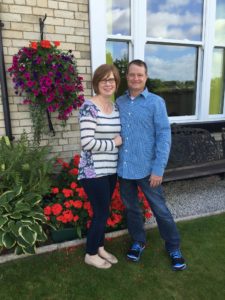 My Wife and I.  August 2016. The morning after I became a British Centurion.