The New Zealand Centurion Qualifier. October 7th – 8th at the AUT Millennium Stadium: Mairangi Bay, Auckland. This was the 20th Sri Chinmoy 6-12-24 hour track races. A very nice facility with a great support staff. Everyone ready to help and always with a smile. When you travel to Auckland you just expect rain and high wind. We were not disappointed. Rained for 14 hours. Half that time sideways. Lucky that the first third of the race started dry.
It was an honor to walk again with my Dutch friends. Antoine Hunting, Arie Kandelaars, Marco Bloemerts, Gertrude Achterberg, Trudy Geldhof.  That list of walkers plus myself  have a total of 16 Centurion badges. We were joined in the walk by New Zealander Damien Wood.
The race was on the 400 meter track. Many people have said, There is no way I could walk around and around a track. My last two Centurion races had features I did not like. One a long hill. One had paving stones. The track is a flat and consistent surface. I was looking forward to the track. My game plan was the same one I have had the most success with. A 13:30 pace. On the track that is around 3 minute 20 second per lap. I started a little faster than that. I felt great. At the four hour direction change I was already leaning to the left. I have been taking an antibiotic for a week for a sinus infection. I guess that might have left me a little weak. For a fact after eight hours I had no gas in the tank.
Well now I have seen the other side of a Centurion race. I have been VERY lucky to have done five Centurion races. Now I have seen the side where you have to swallow your pride and bale. One challenge in any long race is figuring splits in your head. I knew I needed 3:55 splits to make centurion the last six hours. When I crossed the mat with a 4:10 I knew I didn't have a 3:40 in me. Can't play that game for five hours. I pulled the plug at 82 miles. Where did I go wrong. Training was good. Slept each night before the race. Mentally tough. I have experience. It was not my day. It was an honor to watch my Dutch Friends Marco, Arie and Gertrude walk a tough race. They earned their New Zealand Centurion badge. Congratulations! So sad to watch Antoine, Trudy and Damien like myself struggle.
After I threw in the towel. To say I was in a bad way is a gross understatement. I had mild hypothermia. Thanks to Phillip Sharp. He saved me a trip to the hospital. Thanks to my wife Brenda. She feed me porridge like I was a little Baby violently shaking on the floor. My granddaughter is going to love that photo. Back at our B&B now. Can't sleep. Can't eat. I am VERY disappointed. To be honest I never considered failure. You have to be trained, you have to be healthy, you have to be positive to walk a Centurion. Just was not my day.
What's next? Think I will take up ping pong.
The Good.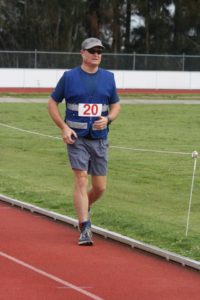 Photo by Tracy Benjamin
The Bad.  Me not Gertrude or Arie.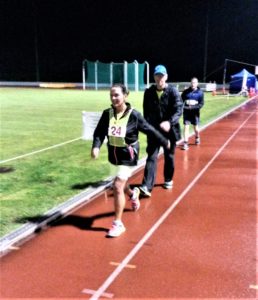 Photo by Phillip Sharp
The Ugly.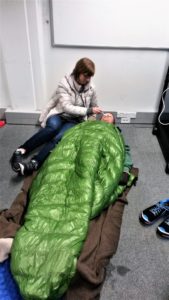 Photo by Philip Sharp