This week 100.0 Miles
Saturday October 22nd – Start of the African Centurion. Robben Island, South Africa
Sunday October 23rd – Finished 100 Miles 22 Hours 36 minutes 03 seconds
Monday October 24th – Recovery Day
Tuesday October 25th –  Travel Day (A LOOOOONG Travel Day.)
Wednesday October 26th –  Recovery From Travel Day
Thursday October 27th – I am in a pattern. Recovery Day
Friday October 28th – Date Night with my Wife!
WOW! What a Race. Hardest Centurion Race I have done. Word of advise. Don't plan Centurion races 11 weeks apart. I really felt my race in England during the last third of my African race. These races are tough on your body. You can feel recovered. You can feel rested. Deep down it takes me longer to be FULLY recovered. But hey. I was not going to quit. I have had tough races before. The scenery in Africa made the pain more bearable.
Back to easy walks and strength training next week. Nice slow recovery.  I have back2back Marathons in 9 weeks to train for. New Years Eve and Day.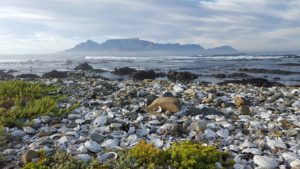 Robben Island, South Africa. Looking toward Cape Town. These shells were along the road on both sides. The insides were a metallic silver. Photo by Michel Evans.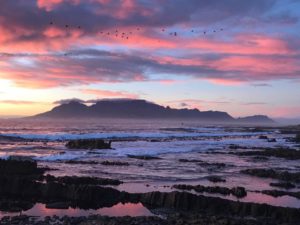 Sunday Morning. Photo by Anthony Long.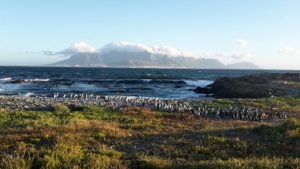 Penguins. Yes that is correct. Walking with Penguins in South Africa. Who knew?  A Centurion race with million dollar scenic views. Photo by Liz Ingram.