This week 23.2 Miles
Saturday October 15th – 4.8 Miles
Sunday October 16th – 8 Miles in 1:43:22.
Monday October 17th – 4 miles
Tuesday October 18th –  4 Miles
Wednesday October 19th –  Travel Day to Cape Town South Africa
Thursday October 20th – Arrive in Cape Town 11pm
Friday October 21st – 2.4 miles to get my legs working again.
I plan each race well in advance. Several months in advance. Train week after week always looking ahead toward the big race day. I daydream about the race. Daydream about the trip. Think about the event for months. Now I find myself in South Africa. Just hours before the start. I can't help but wonder, How did this race sneak up on me? What a beautiful country. Ocean, Mountains everyone helpful and friendly. This race will be like living in a dream. I am not nervous. Hard to describe how I feel. I just know how I am about to push my body and mind to accomplish my goal. Amazing what one can do when we set extreme goals.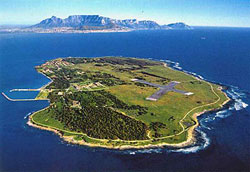 Robben Island looking toward Cape Town and Table Mountain.