The Coburg 24 Hour Carnival April 16 – 17 on the Harold Stevens 400 meter track in Coburg, Victoria. A Big Thanks to the Coburg 24 Hour Organizing Committee, Coburg Harriers Athletics Club and Tim Erickson. If you want an over the top excellent Centurion event let a Centurion set the race up. Tim is Australian Centurion C13. Tim is one of the reasons I became a Centurion. He promotes race walking in Australia and around the World. The Australian Centurion website that Tim manages was about the ONLY information I could find about training for 100 mile walking races. Without Tim my journey would have been much tougher. This race was my first thought not long after my United States Centurion race success.
As usual I got to the Race Track early. I like to remove all stress on race day. Rushing around for me is stress. I would much rather arrive early, wait around and relax. I enjoy watching other racers. I was looking forward to meeting everyone. One person in particular was Double Badge Centurion John Kilmartin.  John became Australian Centurion C67 at last years event. Almost two months before my Centurion attempt in Minnesota. After His success I made contact with John. He was more than willing to offer advice and training tips.  John's help gave me the confidence boost I needed before my U.S. Centurion Race.  John and I both share the same goal. We want every World Centurion Badge. John however is on a super charged pace than I could not ever consider. I was not disappointed. You know how when you look up to someone. Then when you meet them you thought they would be taller because of your perception of grandeur. No disappointment with John. In Real life and My perception John towers above everyone. It was great to see Triple Badge Centurions Justin and Sharon Scholz again. I would not be surprised to run into to the Scholz's at every ultra event on earth. I also met Husband and wife Australian Centurions Terry and Karyn O'Neil.  I was pleased to meet the Double Badge Centurions from The Netherlands, Albertus van Ginkel and Sandra de Graaff.  John, Justin, Albertus , Sharon and Sandra will all five race the Continental Centurion Qualifier in The Netherlands in less than four weeks.  An insane schedule. True Elite Ultra distance athletes. I also was honored to meet Australian Centurions, Michelle Thompson, Clarrie Jack, Robyn Whyte. Long distance walkers Phil Essam, Saul Richardson, Albin Hess, Louis Commins, Blu Young, Dawn Parris, Val Chesterton, Sandra Howorth and John Timms.  A very strong field of Walkers.  I have never been in the company of so many Centurions at the same time. That in itself can be a bit overwhelming. No matter what Continent, Ultra races are like attending Big Family reunions.
The race stated at 10 am. All the walkers in lane three. Runners in lane one. This is where it pays to have a Centurion set up a Qualifier. Tim has the walkers away from the runners.  Just 388 laps in lane three plus a few steps for a total of 100 miles. After training on the rubberized track at home for two months I knew I would like that surface. The weather was perfect. Sunny and a little warm at the start. After a couple of hours it became cloudy with a nice cool wind. Over night was cold with about 20 minutes of light rain. Melbourne can have weather extremes. We were very lucky.  My plan was a nice steady 13:20 pace for the whole race. Set my gear bag under a chair and my food on top. Tim Tams every 30 minutes. I confess. The reason I train hard. The reason I do Centurion races is so I can eat candy all day and night. Australia has good sweet biscuits and lollies. Started off at pace. I was having stomach issues. I have the same diet day after day. However traveling the food is great but the little differences upsets my system. I also tend to overeat. The pace got harder to hold. Then along came some help. The Dutch racers Sandra and Bertus. They support each other, race together with a perfect pace to finish with success. I joined in right behind them. I knew if I just stuck with them I also would find Australian Centurion Success. For 80 miles in the race I did this. As I felt better I would pass them and then later join the Dutch train again. My next problem was sleep. I could not sleep on the overnight flight. I slept very little the next two nights in Melbourne. I really felt this lack of sleep during the race. Being an International Centurion race these issues turn an already Very Tough race to one even Tougher. Not something you really need.  At one point in the race we passed the big monitor that told what lap you had just finished. Bertus said, " Look Rob you only need 100 more laps."  In training on the track at home I would walk 105 laps. Several times during training I would do this 105 lap walk on back to back days. That second day would always be tough. Now I needed 100 laps and had already walked 288 laps. At that point I really thought I might not make it. I was hurting. I was sleepy. I was out of gas. If you want to be a Centurion for me anyway, the race is a real gut check. With about 60 laps to go I was finished. No food looked or tasted good. I had my Wife Brenda buy some Coke. This perked me up a little. With 22 laps to go I was down again. So close but I just did not feel like I could Finish. Brenda got me another coke. Tim Erickson and All the Australian Centurions, support staff, my Australian friends Kevin and Wanda who drove down from Canberra recognized my plight. Everyone was cheering me on. It was not till I got within 12 laps that I thought I could finish. I crossed the 100 mile mark at 23:13:53. Finished with 163.462K. 101.57 miles. Centurion races really are more mental than physical. I made up my mind this race would be a success ten months ago. Had a game plan for the training and the race. I stuck to the training and had to adjust my race plan. Now I am Australian Centurion C68. Got my name right under John Kilmartin's name. Enjoyed everything about my first International Centurion Race. Tough but Enjoyable.
Our Trip to Australia was perfect. The Race. The other Athletes. All the support staff. We enjoyed touring the Yarra valley and along the coast. Beautiful Country. The people around Melbourne are a lot like the People of Oklahoma. Friendly hard working folks. People that appreciate what they work for. People that enjoy their free time. They are "Okies" that talk funny. This will not be my only trip to Australia.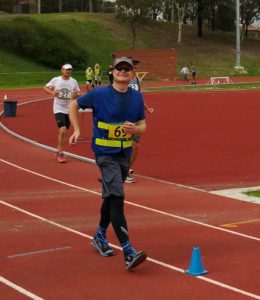 At mile 40.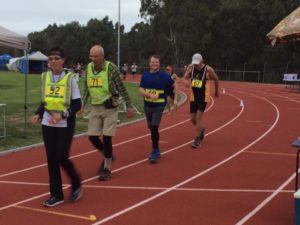 On the Dutch Train. John Kilmartin in back about to pass us again.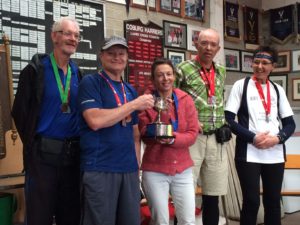 Five Centurion Champions in this Photo.
Michelle Thompson Won the Women's race. I wish everyone could see Michelle Racewalk. She has a grace and beauty to Her style that is mesmerizing. I Won the Men's. This is the Perpetual Australian 24 hour Champions trophy. Our names will be added. On the left  Robyn Whyte a three time Australian Centurion. To the right Now Three World Badge Centurions Albertus van Ginkel and Sandra de Graaff.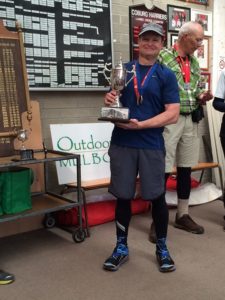 This was very special.  The Jack Webber Trophy.  Only Presented if the performance during a 24 hour Centurion event is deemed a high enough standard. Voted on by the Australian Centurions present. I am very Honored to be have been considered for this great award. Thank You my Australian Centurion Brothers and Sisters.
I feel like I earned this Shirt and Badge. Hats off to the Australian Centurion Club. They do everything over the top. A proud Club proud of their members.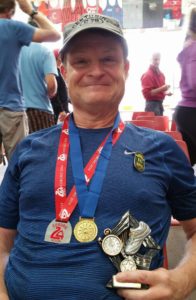 Loaded down. Australian Centurion Badge. Coburg 24 hour medal. The Gold Medal is for fastest Male 100K. Trophy for First Place.
Thank You to Wanda Stewart for all these great photos.
A great magazine article about the Coburg 24 Hour race.
https://www.themonthly.com.au/issue/2016/june/1464703200/paul-connolly/foot-soldiers